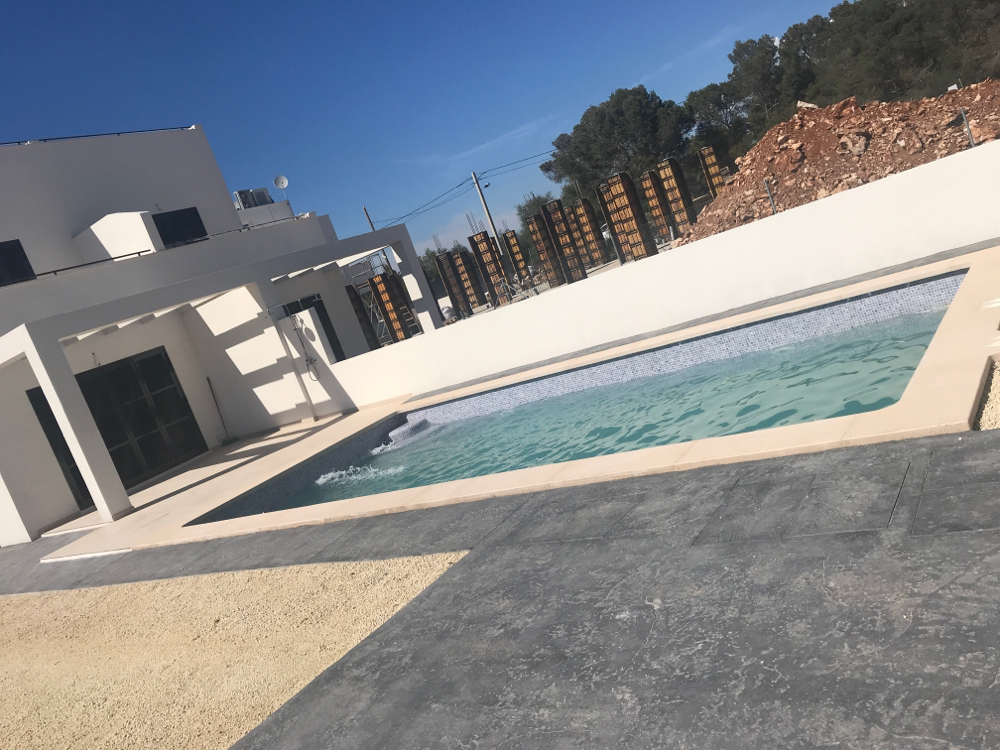 Model house in Mallorca - make an appointment now. Our show home with sea view and pool awaits you. -
Cala Pi, Majorca: Imagine starting your day with a cup of coffee on your balcony while looking out over the blue Mediterranean Sea off Majorca. Afterwards, make a round in your own swimming pool. It does not have to be a dream anymore. In Cala Pi, in the south of the island, we are currently working on an attractive new construction project and invite you to a visit. We were already allowed to inaugurate the model house and it was met with great enthusiasm. On the very first day, two customers were so confident that they immediately bought a unit.
The two-storey buildings are in a prime location, on Calle Albéniz, in close proximity to the nature reserve. This could be your future holiday home. The property covers a total of 390 square meters - just for you. With 127 square meters, the living space is very generous. Three double bedrooms and three bathrooms are waiting for you. Whether you are traveling alone, as a couple or with children - there is space for everyone. The modern design inside and out will appeal to you.
Since this is a new building, you can be sure that you will find everything in the property in high-quality workmanship and with the latest technology. This starts with the materials for walls and floors and ends with details such as the sockets or the ceiling lighting. You benefit from this in several ways: Firstly, you enjoy the house for longer, without having to carry out any repairs or improvements. This saves money in the long term and above all nerves, which is especially important on vacation. Finally, you want to enjoy your time in Cala Pi. On the other hand, the property retains its value for a longer time. So here you have the opportunity to make a truly sustainable investment.
A holiday home for the perfect Mallorca experience
When you enter the house for the first time, you are immediately in the bright living area. In the future you could spend cozy games evenings with the family or prepare a delicious Spanish dinner for friends. Of course, the open kitchen is modern. Also on the ground floor there is a bedroom, a bathroom and a laundry room. If you can not or do not want to climb stairs during your stay, you do not have to. Continue to the first floor. Here are two bedrooms and also two bathrooms. Especially if you travel as a family with young children, you will appreciate that. The morning quarrel over who gets into the bathroom first is a thing of the past. So the holiday becomes more peaceful. Incidentally, all bathrooms have a window, which ensures a good ventilation and prevents moisture problems. In all bedrooms there is enough space for comfortable double beds, so that couples can also find comfortable space. One of the bedrooms has a balcony where you can get fresh air. Thanks to the large glazed door, you can enjoy plenty of natural light here as well. In the other bedroom, one of the highlights of the property awaits you: you have direct access to a spacious terrace with beautiful sea views. These wonderful views are among the top features of our homes. If you can not get enough of the beauty of the coast afterwards, just go up one floor. There is a roof terrace with panoramic views. At the latest during a visit to our show house you will notice that the sight of the deep blue sea has a positive effect on the mood.
Enjoy Mallorca's sunshine whenever you want
But outside the house, you will feel comfortable quickly. The garden leaves nothing to be desired. If you are traveling by car, we have good news for you: Each house has its own parking space. The long and often nerve-wracking search for a free parking space will be spared you. The mild and sunny Mediterranean climate is best enjoyed outside. But the garden offers enough space. Sun loungers can be easily accommodated. So you can make yourself comfortable without leaving the house. If you are more interested in eating out together, you can also place a table and chairs here. Are you more of a sporty type? How about gym exercises in the fresh ocean air? If you want to give the garden your personal touch, potted plants offer. Colorful flowers or fragrant herbs - just like your type. You'll probably have more ideas on how to use your own garden. But for most sightseeing, the view is likely to fall on the swimming pool first. Having your own pool in the garden is a secret dream for some people. Here e could
 Model house in Mallorca - make an appointment now
Show home cala pi, Majorca: schedule your visit now
You have already heard of our Manzana de Cala Pi Homes, but have never been there? Then now is the best time to make an appointment in our show house. Cala Pi Homes is known for beautiful sea view properties with a sensational price-performance ratio. See for yourself!
it's all about location
Real estate investors always say: the three most important things about a property are its location, location and location. That's right, no doubt. Of course, the budget is added. We mean: for properties under 500,000 EUR there is no better offer than the Manzana de Cala Pi Homes. High quality built, well finished and on beautiful land with sea views you will find cottages in which you will fall in love directly.
In the following video you get a good insight into the situation of the Manzana de Cala Pi Homes.
schedule a visit
You would like to get your own picture about our offer of Mallorca real estate? Call us or make an appointment online in our model house. We are looking forward to your visit!