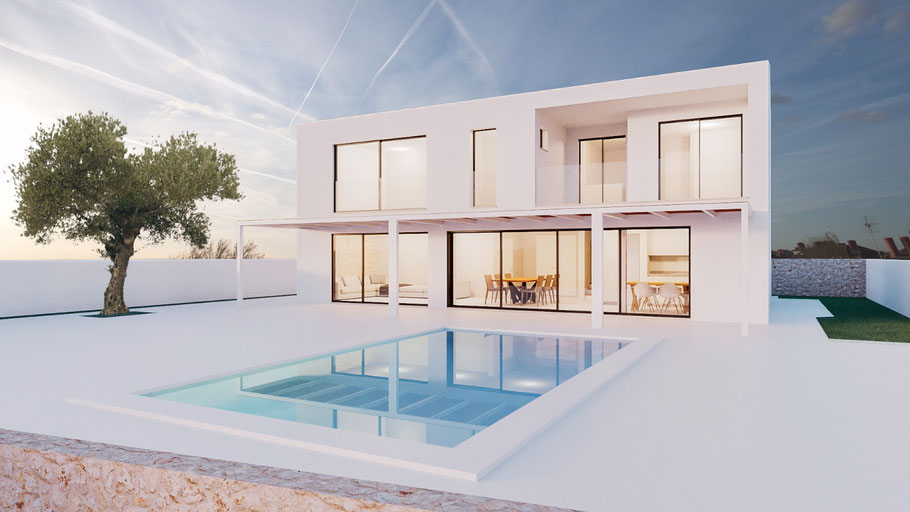 Building land Majorca: on fully developed plots in Cala Pi in the south of the dream island Majorca you can realize your dream of a holiday home in Spain! The project developer Cala Pi Homes takes care of you during the construction phase. Turnkey at a fixed price ensures that you know from the outset exactly what to expect.
Building land majorca
Buy building land Majorca directly from the owner. This is building land, which is completely developed. Building land without risk. In the south of the dream island, only 30min away from the airport Palma de Mallorca. In the beautiful Cala Pi. 
BUILDING LAND MAjORCA: VISIT OUR MODEL HOUSE ON YOUR BUILDING PLOT IN MAjORCA
Visit our model house to your building land on Majorca. In the Calle Albeniz in south position and with view on the sea. In our show house we used different materials. So that you get an idea of your dream house. Of course we show you the available building land in the same, excellent location.
Building land MAjORCA: WHAT ADVANTAGES DOES it have to do it yourself?
If you buy building land and do the building yourself instead of buying a turn key Majorca property (which of course we also have), then you profit twice: You can design your dream house according to your own wishes. And you also save a lot of money. How much exactly, we can show you in a personal conversation. In our show house in Cala Pi.
LAST BUILDING PLOT IN MANZANA II FOR SALE
We sell the last building land of the Manzana II in Cala Pi. The fully developed plot comes with a building permit for the construction of a single family house with three bedrooms and three bathrooms as well as a pool.
ARRANGE AN APPOINTMENT ON SITE
Talk to our expert for building land in Mallorca. Talk to our project manager, who has made more than a hundred dreams of a holiday home in Mallorca come true. Arrange a non-binding appointment in Cala Pi on Mallorca.